Yes, it's possible to get post-vaccination COVID-19. Here's what you need to know
Stephanie Innes | Alison Steinbach | Arizona Republic
Troy Warren #picks-all

As Arizona legislator Alma Hernandez reported this week, it's possible to get infected with COVID-19 post-vaccination, though such cases remain rare.
Hernandez, a Democratic member of the state House of Representatives from Tucson, announced Wednesday that she'd tested positive for the new coronavirus in spite of being fully vaccinated. She'd been vaccinated for more than 11 weeks when she tested positive, she said in a tweet.
The Centers for Disease Control and Prevention calls post-vaccination infections "breakthrough" COVID-19 cases.
The CDC's definition of a breakthrough case is a person who tests positive for COVID-19 14 days or more after completing their vaccine series. In other words, getting infected with the virus that causes COVID-19, even when fully vaccinated.
While COVID-19 breakthrough cases have been very rare among the large numbers of those vaccinated, they can still happen because no vaccines are 100% effective.
Health officials are quick to emphasize that breakthrough cases represent a small portion of all those vaccinated, and that COVID-19 vaccines remain key to ending the pandemic.
Here are five things to know about COVID-19 cases post-vaccination:
Getting COVID-19 after getting vaccinated is possible, but it's very rare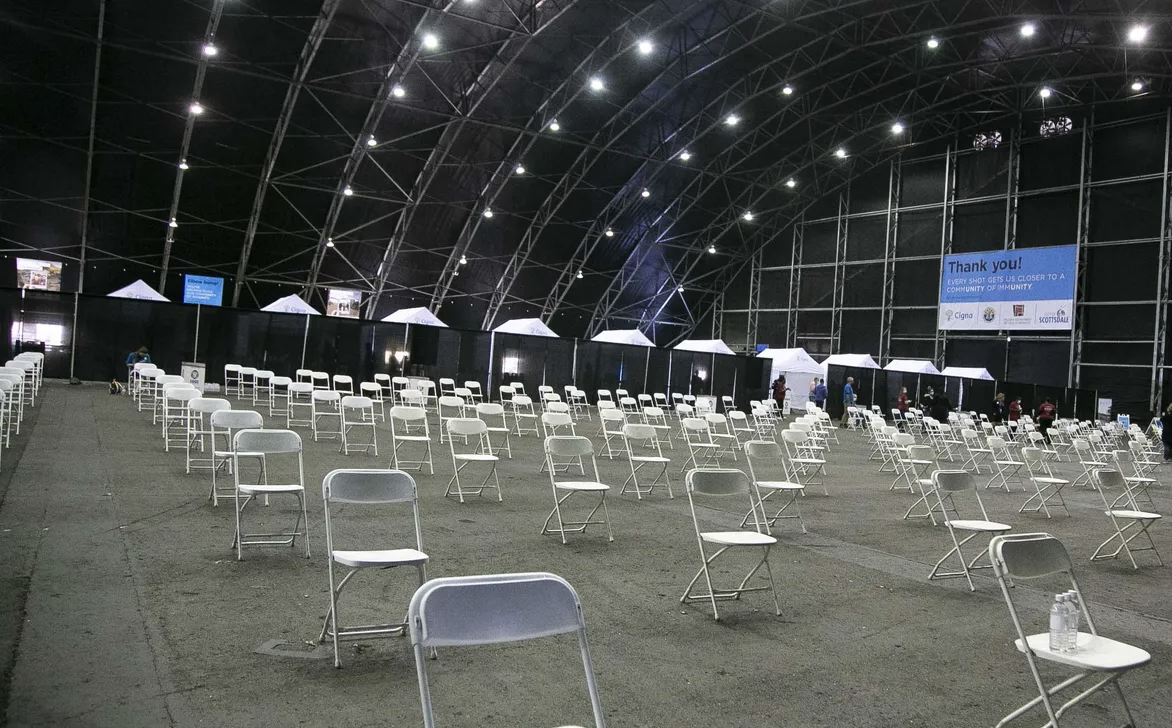 Arizona health officials had identified 947 breakthrough cases in all 15 counties as of Tuesday, none of whom had died.
More than 2.2 million people in Arizona have been fully vaccinated with two doses of Pfizer or Moderna or one dose of Johnson & Johnson, meaning the identified breakthrough cases represent less than 0.1% of those vaccinated.
Nationally, the CDC had received reports of 7,157 breakthrough infections as of April 20 though those numbers are likely an undercount. At that time, more than 87 million people in the U.S. had been fully vaccinated, per the CDC.
Dr. Joshua LaBaer, director of Arizona State University's Biodesign Institute, said while there have been some breakthrough cases, "those numbers are very low."
"If you have been vaccinated, you are in pretty good shape," he said. "If you are vaccinated and you are around other people who are vaccinated, there's very low risk and you pretty much can behave as you did back in the days before COVID-19."
Vaccines still largely protect against severe outcomes
There is some evidence that getting vaccinated and then getting infected makes the illness less severe, according to the CDC.
In Arizona, of the 947 identified breakthrough cases, no one is known to have died, according to the state health department.
Statewide statistics from the start of the pandemic show that 2% of all known cases end up dying.
About 10% of the known breakthrough cases have been hospitalized, but it's unknown if that was because of COVID-19 or if they were just tested when they were hospitalized and COVID was detected.
Of the 7,157 breakthrough infections reported nationally, 64% were females and 46% were 60 and older.
Thirty-one percent of those infected showed no symptoms and 7% were hospitalized, although about one-third of the hospitalizations were asymptomatic or not related to COVID-19. Eighty-eight people, or 1% of the breakthrough cases, died, but 11 of those deaths were asymptomatic or not related to COVID-19, according to the CDC.
Breakthrough cases have been identified in less than one-tenth of 1% of Arizona's fully vaccinated population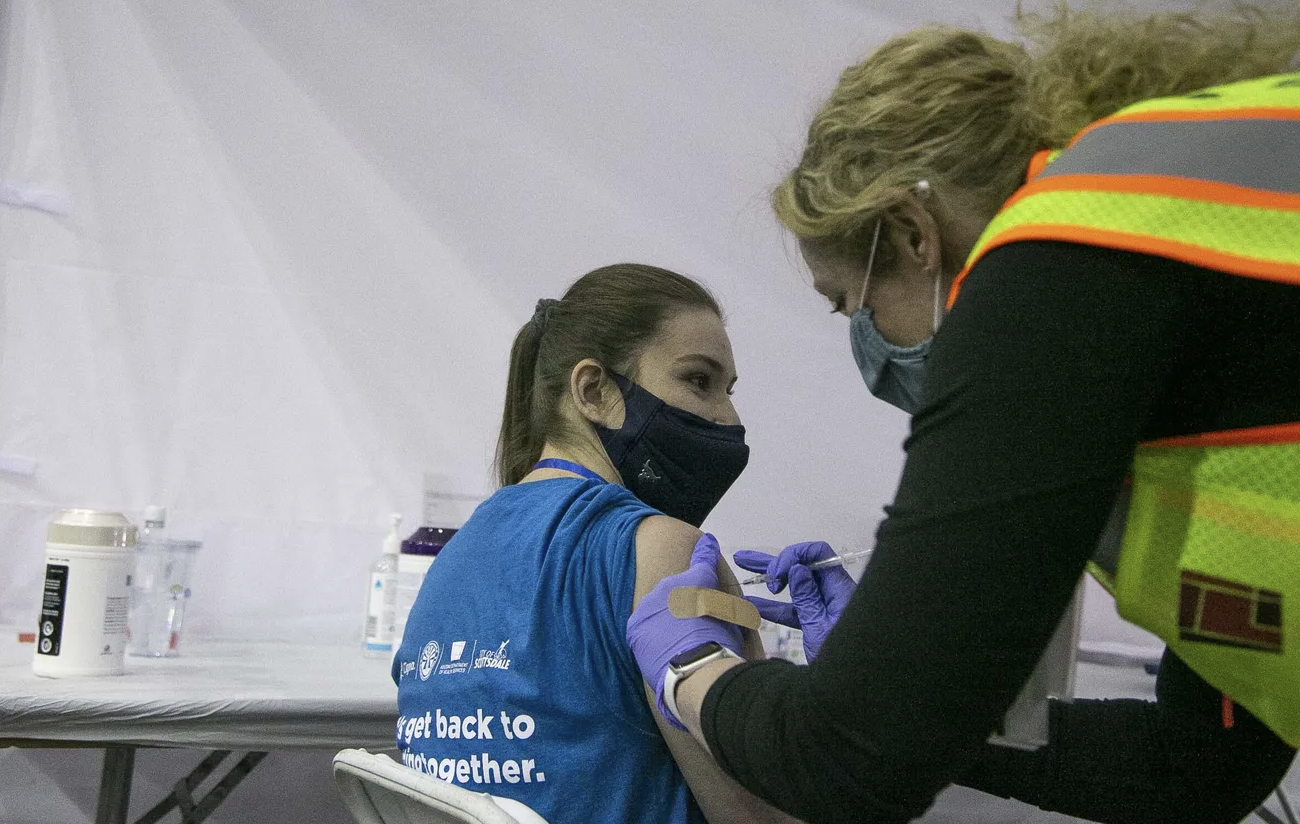 Interim results from an ongoing study of nearly 4,000 health care personnel and other front line workers found that those who were fully vaccinated with mRNA vaccines were 90% less likely to get infected with the SARS-CoV-​2 virus that causes COVID-19 than those who were not vaccinated.
"This is real-world, it's not a clinical trial," said Will Humble, executive director of the Arizona Public Health Association. "Being 90% assured that I won't get it and practically 100% assured that it won't kill me, that's enough for me to get back to normal."
The workers in the "real world" study of the vaccine's effectiveness was published April 2 in the CDC's Morbidity and Mortality Weekly Report. The vaccinated workers in the study had received either the Pfizer-BioNTech or Moderna vaccines.
The bottom line: it's no surprise to public health experts that there are breakthrough cases. The flu vaccine in a good year is 60% to 70% effective. Humble said he recalls thinking last summer that if the COVID-19 vaccine were to be 75% effective he'd be jumping for joy.
The fact that the effectiveness of COVID-19 vaccines is 90% in the recent real-world study and was even higher in clinical trials shows the vaccines are effective, Humble said.
No vaccine is ever 100%
Some breakthrough cases are to be expected, the CDC says.
"COVID-19 vaccines are effective and are a critical tool to bring the pandemic under control. However no vaccines are 100% effective at preventing illness. There will be a small percentage of people who are fully vaccinated who still get sick, are hospitalized, or die from COVID-19," CDC officials say.
That does not mean the vaccines are not working as they should, but just that some people will get infected — symptomatic or asymptomatic — even after getting vaccinated because the vaccines are not perfect.
Of Arizona's known breakthrough cases, the breakdown by vaccine type is:
Pfizer-BioNTech: 562 cases (60%).
Moderna: 305 cases (32%).
Johnson & Johnson: 80 cases (8%).
By and large, the approved vaccines are good. New large-scale, real-world data from the CDC found that adults 65 and older who were fully vaccinated with Pfizer or Moderna were 94% less likely to be hospitalized with the virus than people their age who were not vaccinated.
"In the end, the decision that people will have to make for themselves is what kind of protections do they want to continue to follow, recognizing that this will probably always be a sporadic disease," Humble said. "Even if we get to herd immunity it doesn't mean zero cases."
Health officials are watching for any patterns in the breakthrough cases
The national numbers are likely an undercount, the CDC says, because the national surveillance system relies on voluntary reporting.
The CDC says breakthrough case numbers are a "snapshot" and that they "help identify patterns and look for signals among vaccine breakthrough cases."
State and federal health officials are watching for any patterns in the case demographics, like ages or medical conditions, or vaccine characteristics among people with post-vaccination infections.
No unexpected patterns have been seen so far, per the CDC.
Health officials are watching to see whether the circulating SARS-CoV-2 variants, some of which seem to be more infectious, are impacting the number of breakthrough cases. The CDC says data so far suggests the approved vaccines protect against most variants, but variants will still cause some of the post-vaccination infections.
The CDC plans to focus more on investigating only breakthrough cases that result in hospitalization or death rather than tracking all vaccine breakthrough infections.
Hernandez, the Arizona legislator, had attracted nearly 250 comments on her Twitter announcement about her breakthrough infection by midday Thursday, including several questions about her COVID-19 illness. She has a fever, "horrible migraine, and I can't taste or smell," she said.
But Hernandez emphasized she was not trying to stir doubt about the usefulness of the COVID-19 vaccine.
"As a public health professional, I'm in no way advocating for you NOT to get vaccinated," she tweeted. "If you haven't, do ASAP. This is just to REMIND you a vaccination does not mean immunity to contracting #Covid."