Guy Fieri, Fired Up: The Food Network King, With a Massive New Deal, Pushes for More Restaurant Relief
by Mikey O'Connell | HollywoodReporter.Com
Troy Warren #foodie-all #reviews-all

Once mocked by white-tablecloth elites, Fieri just signed a landmark pact for a TV chef as he steps into a respected elder statesman role in the food world — raising millions for workers unemployed due to COVID-19: "I was pissed."
Guy Fieri's 1968 Camaro is conspicuously absent from the lineup of vintage wheels abutting his Windsor, California, ranch in Sonoma Valley wine country.
The cherry-red convertible seen in 400-plus episodes of the star chef and car collector's culinary travelogue Diners, Drive-Ins and Dives is en route from points east, where production resumed this past winter, but the platinum blond is spending a few days at home between shoots. Like most people, Fieri is taking baby steps in the return to normalcy — though his pre-pandemic status quo meant supplying Food Network with a dizzying 80 annual hours of original programming. Fieri was among the first to film remotely in 2020, appearing on air within a week of nationwide lockdown orders, so he naturally was back on the road as soon as he was allowed.
"Here's my research for Hawaii; we're getting ready to go shoot there next," says Fieri, sliding a spiral-bound agenda of eateries across the table that separates us. Some businesses anointed by his Midas touch have seen sales climb fivefold after Fieri scarfs their creations on TV, a stat that carries new significance for the host given the calamitous effect of the downturn on the restaurant business. "Then I'm trying to finally put Puerto Rico together," he adds, grabbing another binder. "They need some love."
This March afternoon at Fieri's home isn't unlike catching up with a busy friend who just happens to have an Emmy statuette and a few bottles of the tequila brand he owns with Sammy Hagar on the kitchen island. One of three wine country properties Fieri keeps in his native Northern California, this has been where he, Lori, his wife of 26 years, and sons Hunter and Ryder have spent most of the past year with their three dogs. The smallest, a Chihuahua named Smokey, is Fieri's favorite — as the handmade "Enter slowly please; small dog" sign at the end of his long driveway suggests.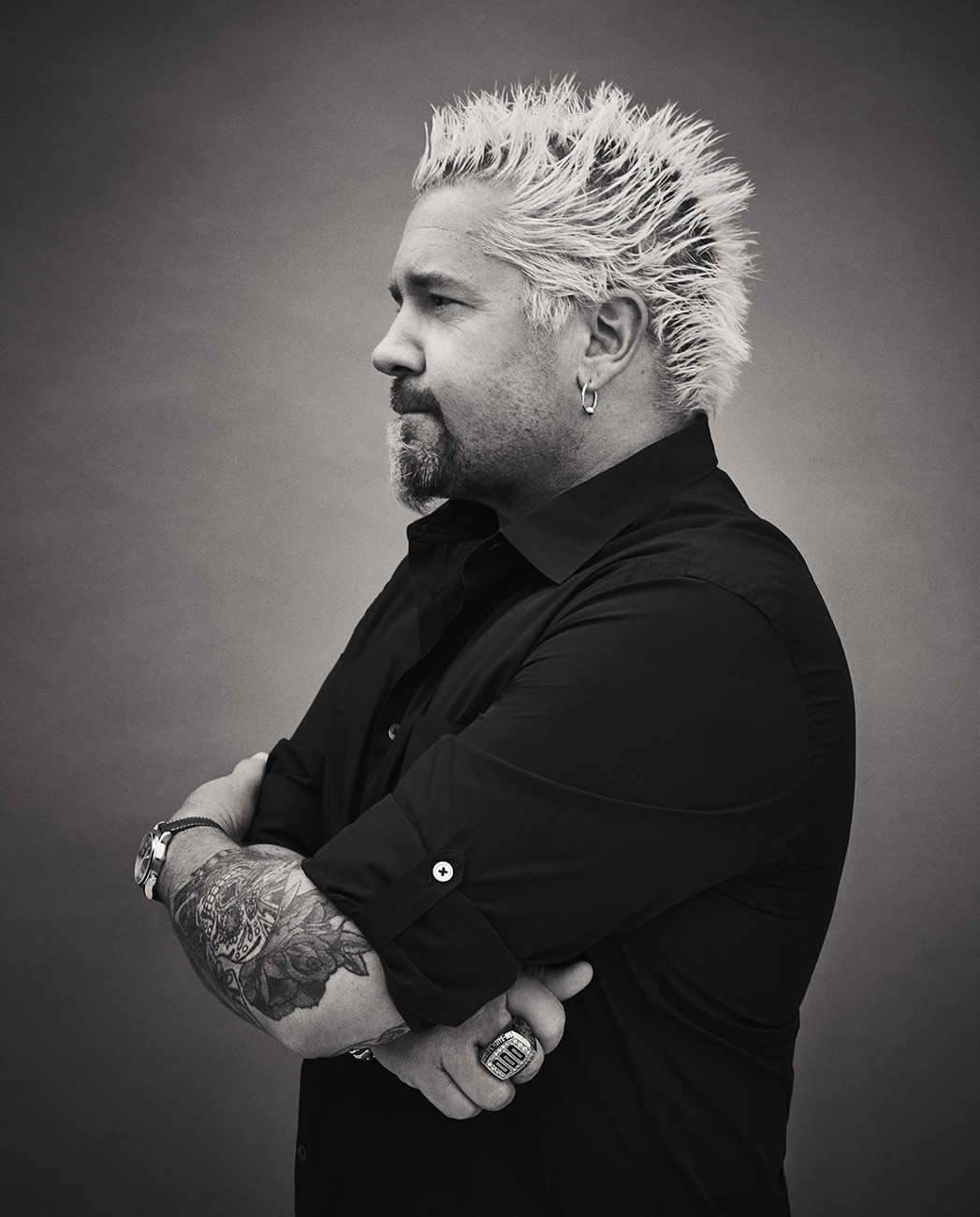 Where Fieri, a volcano of enthusiasm on camera, subverts expectation is in his almost subdued hospitality. Not a nacho, battered chicken thigh or jalapeno popper in sight, the man synonymous with on-camera caloric intake instead pulls me a double shot of espresso. "I got really good at this over the last year," he says, nodding to the coffee machine.
Fieri sharpened this skill while also in the past year raising more than $25 million for food workers left unemployed by COVID-19 closures. He is now devoting most of his energy and, under a landmark new TV deal, his creative output into rebuilding the industry that once poked fun at his unrefined aesthetic and bacon-bedazzled menus. These days, it's hard to not take Fieri seriously. As he plans to beat the drum for restaurant relief even louder — and as those hardest hit by America's selective recession start to fall out of the news cycle — the goateed gastronomist's sense of purpose may be the thing to finally eclipse his brash persona.
"Nothing can replace what this kind of recognition, appearing on TV, can do for these people and their businesses … for their lives," he says, taking a sip of coffee. "I need to keep doing this because it just needs to be done."
***
Thirteen months ago, as the pandemic began and the country's collective anxiety skyrocketed, Fieri was not scared or nervous. He was too angry. "I don't get pissed or lose my shit," he explains. "But I was pissed."
Restaurants were closed from coast to coast, and, by Fieri's estimation, most — the types of mom-and-pop places featured on Diners, Drive-Ins and Dives — maybe had a 10-day runway before the money dried up. It was mid-March 2020, and he was on his elliptical machine — Fieri comes up with a lot of his ideas during cardio — when he decided to ask his business manager for contact info for CEOs of major corporations. He drafted personal emails to power brokers like Amazon founder Jeff Bezos, soliciting donations for an emergency relief fund that would ultimately award more than 43,000 grants — of $500 each — to out-of-work line cooks, servers and other restaurant professionals.
Today, in a crisp black button-down, Fieri opines on the crisis with an undiminished passion. "I'm not into shaming people and telling who didn't donate, that's not my style," Fieri says, as he credits getting huge sums of money from PepsiCo, Uber Eats and Procter & Gamble before taking a pause. "Jeff, by the way, didn't help us," he shares.
"There is no better salesman than Guy," says Food Network president Courtney White, whose most bankable talent has fronted 14 series on her network. "There's a power to his enthusiasm. It gets people to rally around his vision, whether it's a pitch for a show or in raising all that money."
While he was hitting up Fortune 500 companies for donations, Fieri sold White on making the Discovery-owned network's first feature-length documentary, Restaurant Hustle 2020: All on the Line. Co-directed by Fieri, the doc follows four chefs trying to stay in business at the height of the pandemic. It premiered in December, and a follow-up is in the works for this summer. Fieri also pivoted the recent season of Food Network's chef-competition show Tournament of Champions — his first project back in a studio after shooting at-home versions of Diners, Drive-Ins and Dives and Guy's Grocery Games — to redirect all its prize money (more than $210,000) to struggling restaurateurs.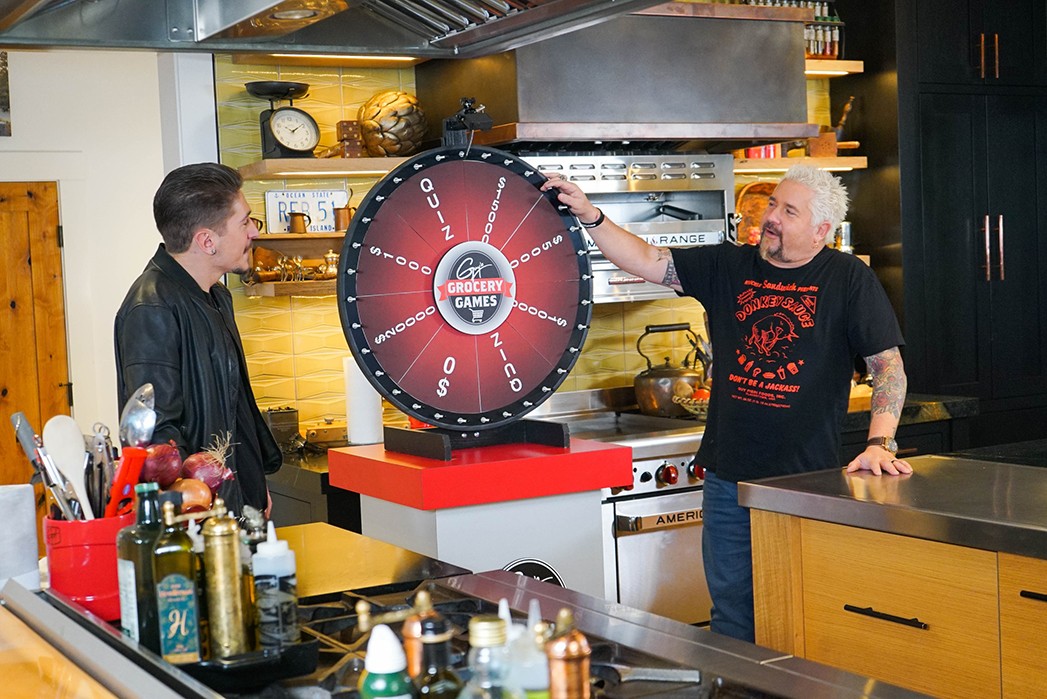 His philanthropy long has been known in Sonoma County, where he's fed frontline workers and displaced neighbors impacted by area wildfires. But this latest crisis is playing out on a much larger stage and finds Fieri, who turned 53 in January, moving into the type of elder statesman role previously reserved for white-tablecloth ambassadors like José Andrés and Tom Colicchio.
Tally the long line of show credits and the millions in contributions, and it becomes challenging to reconcile the Fieri of 2021 — emergent folk hero — with the Fieri who first materialized on American TV in April 2006, newly crowned winner of a nascent reality competition (The Next Food Network Star). In that first year, he went from anonymous restaurateur to making less than $1,000 an episode on his first cooking show (Guy's Big Bite) to launching the career-defining Diners, Drive-Ins and Dives.
"We built a five-year plan for him, and he blew through it in, like, three," says longtime agent Jason Hodes, partner at WME, whose colleagues used to tell him to "hug the rocket" as Fieri accumulated series and licensing deals. "He's a true household name, just one that people can't seem to pronounce correctly."
Despite opening most every show with a familiar "Hi, I'm Guy Fieri," swapping out the "r" in his last name for an Italian flourish that sounds more like "Fiedi," his preferred pronunciation eludes most of his huge audience. An average 73 million viewers, per Food Network, watch at least one piece of Fieri programming quarterly. And while he hasn't worked full-time in a kitchen for two decades, he's involved with more than 85 restaurants globally and recently partnered with Planet Hollywood CEO Robert Earl on an ambitious delivery-only concept, Flavortown Kitchen. If you live in a major U.S. city, chances are you can have a Fieri-sanctioned Bacon Mac N Cheese Burger delivered in the same time it takes to watch an episode of Guy's Ranch Kitchen.